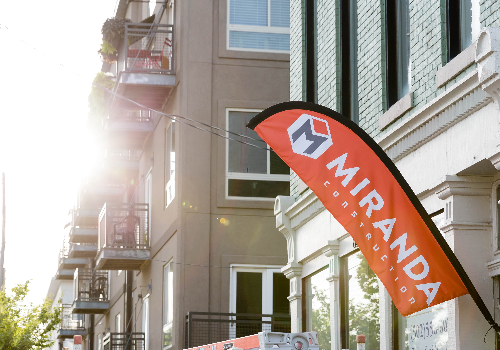 Construction
For contractors and construction companies, using signage to keep your employees, guests, and the general public safe is a good business practice and in some cases, a federal government mandate.
Consider the following signs used by contractors and construction companies:
Post & Panel Signs, Mesh Banners, Vinyl Banners – As a business, it's important to advertise your brand on the site of your latest projects. Post & panel signs are commonly used for this purpose in the construction industry because they can be custom designed with your branding elements.
Site Signs – When site signage is required for a project in progress, Signarama Santa Monica (West LA) can create the perfect signage to advertise the project, inform customers that the business is open during construction, and let others know who to contact for questions. Site signs can take many forms so our sign experts will assist you in determining the best option for your location and budget.
OSHA & Safety Signs – Our highly experienced sign experts understand all of the Occupational Safety and Health Administration (OSHA) requirements for construction sites. In addition, our experts know the safety requirements of local and state governments where construction sites are concerned. We can help with all of the indoor and outdoor signage requirements that contractors and construction companies need to be considered safe facilities and service providers that are compliant with government regulations. Our safety and directional signs are designed to be durable, waterproof, and visible day and night. Signarama Santa Monica (West LA) can customize safety signs for contractors and construction businesses that feature your branding so that others directly associate your company with the safety conditions your business values. Whether you need to alert employees or guests to dangerous equipment, moving vehicles, site hazards, or any other condition, the Signarama Santa Monica (West LA) sign experts know the right way to send your most important messages.
Vehicle Graphics – Whether you are looking for a vehicle magnet, custom vehicle lettering or a vehicle wrap, our sign experts can bring your vision to life so that your business is visible everywhere your vehicle goes. Own a fleet of vehicles? No worries, we can create a uniform look across all of your vehicles.
Build it and They Will Come – Why Contractors & Construction Businesses Choose Signarama Signs
Our creative team of sign experts at Signarama Santa Monica (West LA) understand all of the signage issues that impact contractors and construction businesses of any size. We have the knowledge and experience to help keep you compliant and increase brand recognition at the same time. With countless signage solutions at our disposal, we're here for your construction business needs. Contact Signarama Santa Monica (West LA) today to find out more about how our sign professionals can help your contractor or construction company.
Would you like to request an estimate?